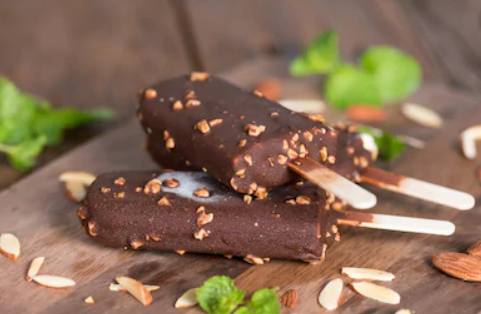 Pure white in the inside coated with rich chocolate. These Coconut Popsicles are great summer treat, Enjoy!
6 servings 7-10 min 3 hours and 40 min Very easy
Ingredients
For The Coconut Popsicles:
3/4 cup + 2 Tablespoons coconut milk
1/4 cup 2% milk
3 Tablespoons water
3 Tablespoons + 1 teaspoon sugar
For The Chocolate Shell:
2/3 cup semi-sweet chocolate chips
1/3 cup refined coconut oil
(Optional ) Chopped almond for topping
Directions
To Make The Popsicles:
Whisk together all coconut popsicle ingredients in a spouted measuring cup until sugar has dissolved.
After freezing the pop maker for 15 mins , put in your popsicle sticks and pour in the coconut popsicle mixture up to the fill line in your pop maker.
Allow the mixture to freeze for about 3 hours at least before dipping in chocolate.
To Make The Chocolate Shell:
Heat chocolate chips in an oven safe glass bowl in 20 second increments until melted, stirring in between each time.
Whisk together the chocolate and coconut oil it is completely smooth and mixed together.
Remove from heat and let cool.
Dip the popsicle into the melted chocolate and transfer to lined baking sheet. drizzle some chopped almond on top.
Return each popsicle to the freezer for extra 30 mins.