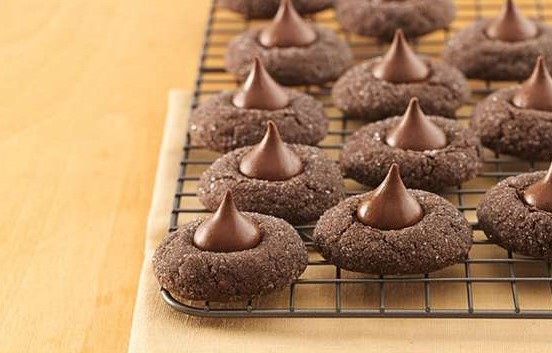 These Chocolate Kiss Cookies are hit in any occasion. Moist on the inside with the right amount of chewy outside. A a good recipe to make with kids, they can help you unwraping all those Kisses.
36 servings 8 min 20 min Very easy
Ingredients
1/3 cup butter, softened
1/2 cup brown sugar
3/4 cup sugar
1 egg
1/3 cup plain Greek yogurt
2/3 cup dark cocoa powder
1 teaspoon baking soda
1 1/2 cups flour
Coarse white sanding sugar
36 Hershey's Kisses, unwrapped
Directions
Preheat oven to 350 F degrees. Unwrap Hershey's Kisses and set aside.
In a large bowl, beat butter, white sugar, and brown sugar until fluffy.
Add the Greek yogurt and egg and beat until smooth.
In a medium bowl, whisk flour, cocoa powder and baking soda. Stir flour mixture into butter mixture until just incorporated.
Bake for 8 minutes. Remove from oven and let cool for 1-2 minutes, then place Hershey's Kiss on top, pressing down gently. Do not move the cookies until they are completely cool and the kiss has a chance to set back up.