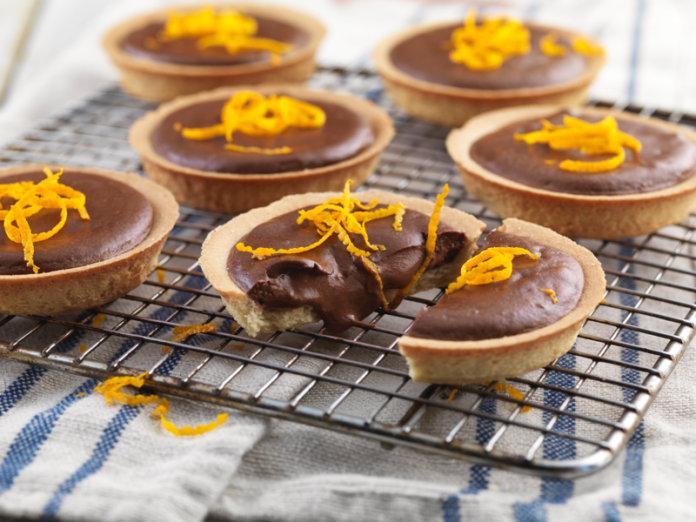 A lovely rich filling in a crisp pastry case. Simple and easy to make recipe. Serve with whipped cream or ice-cream and you have a wonderful decadent dessert.
Use tart pans to make the pie shells.
6 Pies servings 20 min 90 min Easy
Ingredients
Pie Crust :
125 g Unsalted Butter softened
90 g Caster Sugar
1 Egg
2 cups Plain Flour
Chocolate Orange Filling:
150 ml Double Cream
150 g dark chocolate Premium
Orange Zest of 1 large Orange
Orange Juice of 1 large Orange
1 tbsp Orange liqueur Cointreau
Icing Sugar to dust tart for serving
Directions
Pie Crust:
Beat butter and caster sugar together until light and fluffy.
Add egg into mixture and beat until well combined.
Gradually add flour and mix through until well combined.
Bring dough ball together, remove from bowl and knead lightly. Roll into a ball.
Wrap in cling wrap and place in refrigerator for at least one hour.
Roll out pastry with a rolling pin and then use the pastry to line the individual tart pans. Note: use 10cm loose base tart pans
Place tart pans in refrigerator for 30 minutes to allow pastry to firm.
Preheat oven to 180°C.
Line pastry pans with foil and fill with baking beads. Bake in oven for 15 minutes.
Remove from oven and remove foil and baking beads. Return pastry pans to the oven and cook a further 5 minutes.
Chocolate Orange Filling:
Add dark chocolate, double cream and orange zest to a heatproof bowl and place over a saucepan heating water on high heat.
Stir mixture until chocolate melts and stir through until well combined.
Remove from heat and add liqueur and orange juice and stir through until well combined.
Spoon mixture into the individual pie shells and leave at room temperature to cool.
Store in refrigerator to firm up the chocolate filling.
Serve and Ejoy!