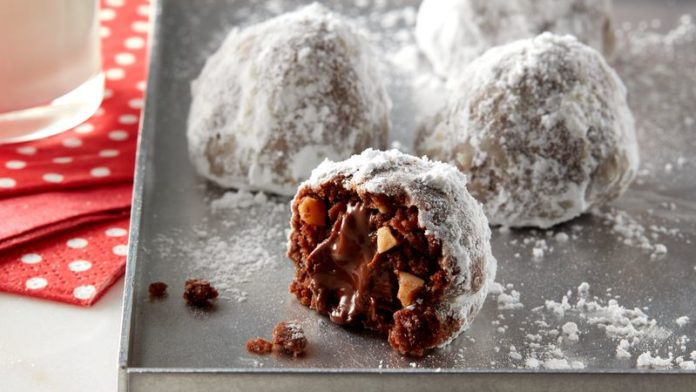 Level up you dessert game with our melt-in-your mouth Chocolate Snowballs. There's chocolate in the center of each cookie! 
20-25 servings 20 min 35 min Easy
Ingredients
150g Plain flour
15g Corn flour
½ tsp vanilla powder
45g ground almond
30g Cocoa powder
120g Butter, softened
1 small egg yolk
50g Walnuts, chopped
90g Icing sugar
Directions
In a mixing bowl, stir the soft butter to light. Add icing sugar and mix well and add egg yolk, mix well again.
Sieve in flour ingredients and cocoa powder, add almond meal, fold well with a rubber spatula.
Lastly add in chopped walnuts and mix well to form a soft dough.
Roll dough into small balls , about 10-12g each and place on a lined baking tray.
OPTIONAL : you can wrap each around 1 milk chocolate candy.
Bake in preheated oven 170C for about 20 minutes.
Cool down cookies completely and dust some icing sugar over it.