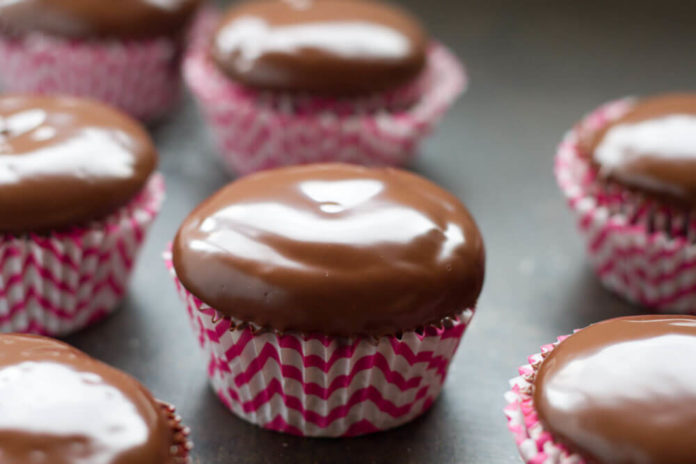 Dairy-free delightful treat. A moist chocolate cupcakes topped with rich chocolate glaze!
16 servings 15 min 25 min Very easy
Ingredients
1-1/2 cups all-purpose flour
3/4 cup sugar
1/3 cup baking cocoa
1 teaspoon baking soda
3/4 teaspoon salt
1 cup water
1/4 cup unsweetened applesauce
1/4 cup canola oil
1 tablespoon white vinegar
1 teaspoon vanilla extract
2/3 cup semisweet chocolate chips
GLAZE:
1/2 cup semisweet chocolate chips
1/4 cup half-and-half cream
Directions
Preheat oven to 350°. Line 16 muffin cups with foil liners.
In a large bowl, whisk the first five ingredients. In another bowl, whisk water, applesauce, oil, vinegar and vanilla until blended.
Add to flour mixture; stir just until moistened. If desired, stir in chocolate chips.
Fill prepared muffin cups three-fourths full. Bake 14-16 minutes or until a toothpick inserted in center comes out clean. Cool 5 minutes before removing from pans to wire racks; cool completely.
For glaze, in a small saucepan, combine chocolate chips and cream; cook and stir over low heat 3-5 minutes or until smooth.
Remove from heat. Cool at room temperature until glaze is slightly thickened, stirring occasionally, about 30 minutes. Dip tops of cupcakes into glaze, Enjoy!