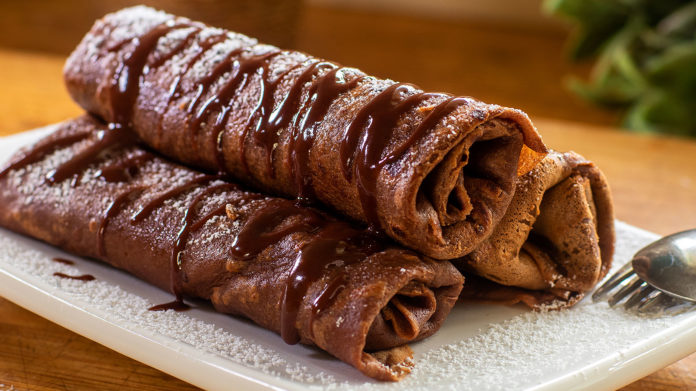 Satisfy your chocolate craving with these delicious, easy to make crepes filled with Nutella.
12 servings 1 min 10 min Very easy
Ingredients
1 cup all purpose flour
2 tbsp unsweetened dutch cocoa powder
1 tbsp powdered sugar
1 1/2 cups 1% milk
2 large egg whites
1 whole egg
1 tsp oil
butter flavored spray
1 cup Nutella
3/4 cup chocolate syrup to serve
Directions
Blend flour, milk, cocoa powder, powdered sugar, eggs and oil until smooth in the blender.
Heat a large nonstick pan on medium-low flame. When hot, spray with buttered flavored spray to coat bottom of pan.
Pour 1/4 cup crepe mixture into pan, swirling pan slightly to make crepe thin and smooth. Cook for 1 to 2 minutes or until bottom of crepe is light golden brown.
Flip; cook 30 seconds to 1 minute or until light golden brown. Repeat with remaining buttered flavored spray and crepe mixture.
scoop outNutella using a spoon and place approx 1 or 2 tbsp per crepe. Fold over the sides then roll tightly. Repeat process with all other crepes.
Drizzle the chocolate sauce over the crepes. Serve.