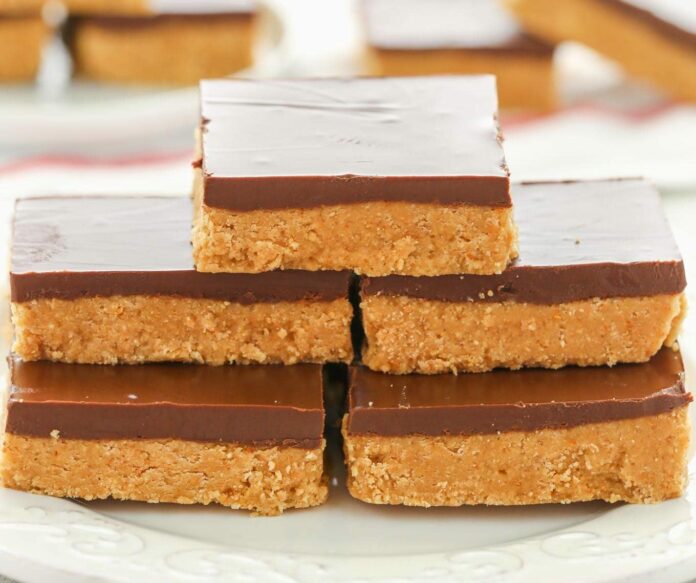 Easy chocolate peanut butter bars dessert, make them in less than 15 minutes!
Servings: 16
Total time : 25 min
Cooking time : 0 min
Difficulty: Very easy
Ingredients
Peanut Butter Base:
¼ cup butter, softened
1 ½ cups creamy peanut butter
1 cup powdered sugar
1 cup graham cracker crumbs
1 tsp pure vanilla extract
¼ tsp sea salt
Chocolate Topping:
1 cup semi-sweet chocolate chips
1 Tbs creamy peanut butter
Directions
1 Lightly grease or line a 9×9" or 8×8″ baking pan with parchment paper. Set aside
2 In a large bowl, mix together powder sugar, graham cracker crumbs and salt, set aside.
3 In a mixer, beat butter and peanut butter together until creamy. Add vanilla and beat until combined. Add dry ingredients and beat until combined Pour into your prepared baking pan and spread evenly with a greased spatula or your hands..
4 Melt chocolate chips and peanut butter together in the microwave or on the stovetop, stir until completely combined and smooth.
5 Pour chocolate peanut butter mixture over peanut butter base and spread until it's evenly distributed.
6 Cool in fridge for about 20 minutes or until chocolate is slightly hardened. Remove out before chocolate is completely hardened and cut into squares. Return to fridge until completely cooled. Serve the peanut butter bars cold or at room temperature!
Tips and advice
If using the microwave, start by warming them for 60 seconds and stirring, and then if they still need to melt warm in 30 second increments after that, stirring after each.