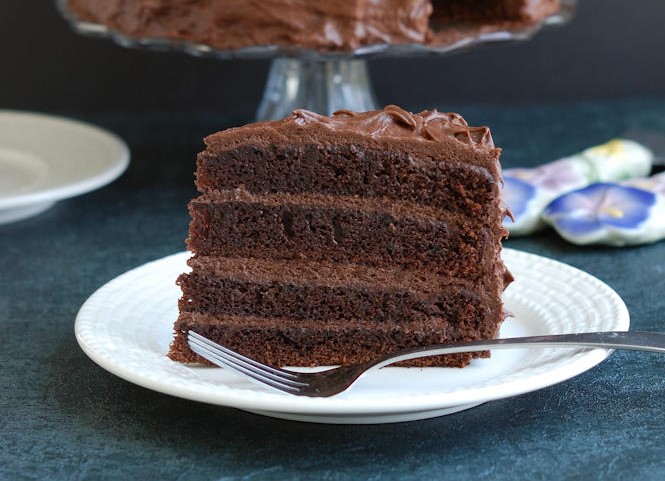 A classic layer cake that rich and chocolatey but not too sweet. Enjoy this easy to make cake. We guarantee it turns out moist every single time!
8-10 servings 25 min 85 min Easy
Ingredients
For The Fudgy Cake:
1 1/4 cups all-purpose flour
1 1/2 cups sugar
3/4 cup unsweetened cocoa powder
2 1/2 teaspoons baking powder
1 1/2 teaspoons baking soda
1/8 teaspoon salt
1 cup buttermilk
3 large eggs
2 1/2 teaspoons pure vanilla extract
6 tablespoons unsalted butter, softened
1 cup hot coffee
For the Filling and Frosting
1 cup heavy cream
5 tablespoons unsalted butter, softened
1 1/4 pounds bittersweet chocolate, finely chopped
2 tablespoons light corn syrup
1 tablespoon sugar
1 tablespoon water
Directions
Cake:
Preheat the oven to 325F. Line the bottoms of three 8-inch round cake pans with rounds of parchment paper then Spray the pans and the parchment paper with cooking spray.
In a large bowl, whisk the sugar with the flour, cocoa powder, baking powder, baking soda and salt.
In a small bowl, whisk the buttermilk with the eggs and vanilla.
In another small bowl, melt the butter in the hot coffee. Using an electric mixer, beat half of the buttermilk mixture into the dry ingredients at low speed.
Beat in half of the coffee mixture, then scrape down the bowl. Beat in the remaining buttermilk and coffee mixtures.
Pour the batter evenly between the prepared pans and bake for 25 to 30 minutes, rotating the pans halfway through baking, until the cakes are springy to the touch.
Let the cakes cool in the pans for 10 minutes, then turn the cakes out onto a rack to cool completely. Peel off the parchment paper.
Filling and Frosting:
Put the chocolate in a large bowl. In a small saucepan, bring the cream and corn syrup to a boil. Immediately pour over the chocolate and let stand in a warm place for 5 minutes.
Gently whisk the ganache until smooth. Whisk in the butter until incorporated.
Refrigerate, stirring frequently, until the ganache is thick enough to spread, about 30 minutes.
In a microwave-safe bowl, combine the sugar with the water and heat for 30 seconds. Stir to dissolve the sugar.
Assemble the cake:
Set a cake layer on a cake plate or cake cardboard and brush lightly with the sugar syrup. Spread about 3/4 cup of the frosting onto the cake in an even 1/4-inch layer.
Repeat with the remaining cake layers, sugar syrup and frosting.
Spread the remaining frosting around the sides of the cake. Let the cake stand at room temperature for at least 1 hour before slicing. Enjoy!