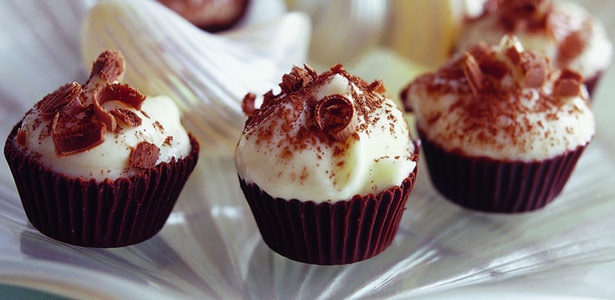 White chocolate mousse in a dark chocolate cup topped with chocolate curls. The perfect dessert that will be the talk of the town.
4 servings 0 min 20 min Easy
Ingredients
For mousse:
180g good-quality white chocolate, roughly chopped
250g mascarpone cheese, at room temperature
1 teaspoon vanilla extract
425g can blueberries in syrup, drained
For chocolate cups:
12 ounces chopped chocolate
Candy cups, preferably the foil variety
Small, clean paint brush (optional)
Directions
Cups:
Temper your chocolate.Take a spoon and fill each cup to the brim with chocolate.
Let the chocolate sit for a few minutes, just until it starts to set around the edges.
Then grasp a candy cup by the bottom and invert it over the bowl of chocolate, letting the excess drip out. Once the extra chocolate is gone, you'll be left with a thin, even coating on the sides and bottom of your cup.
Mousse:
Place white chocolate in a heatproof, microwave-safe bowl. Microwave, uncovered, on medium (50%) for 2 to 3 minutes, stirring every minute with a metal spoon, until almost melted. Stir until smooth. Allow to cool for 5 minutes.
Fold mascarpone and vanilla through chocolate.
Using piping bag fill each cup.
Top with chocolate curls. Enjoy!