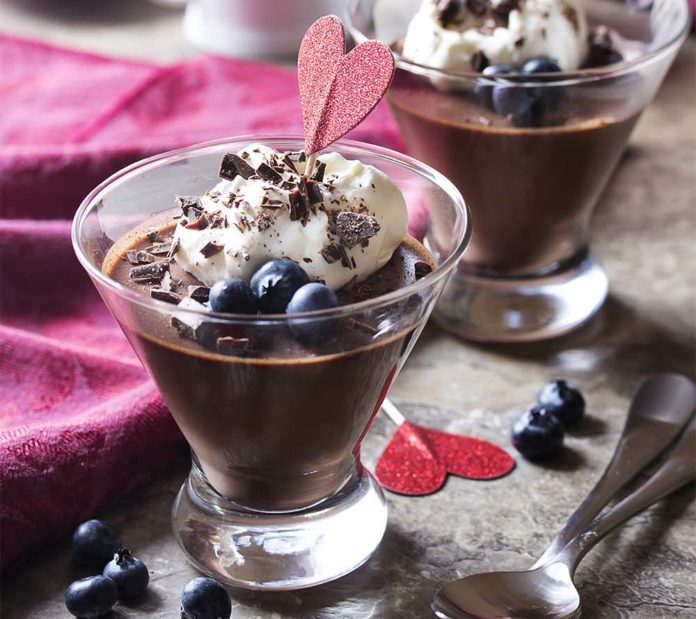 Dark chocolate panna cotta is a rich, but simple, Italian dessert made from cream, gelatin, and bittersweet chocolate. Full of intense chocolate flavor, it's great for dinner parties, Valentine's day, or any day you need chocolate.
2 servings 5 min 15 min Easy
Ingredients
1 cup half and half, divided, 1/4 cup for the gelatin and 3/4 cup for the saucepan
3/4 tsp gelatin
2 oz bittersweet chocolate
1-2 tbsp granulated sugar
1/4 tsp espresso powder
1 dash kosher salt
1/2 tsp vanilla extract
Directions
Set out two 6 oz cups, bowls, or ramekins. If you want to unmold the panna cotta, use either metal ramekins or glass custard cups (which should be deep rather than wide) and lightly grease them. If you want to serve in the containers, use any decorative cups or bowls you have.
In a small bowl mix together the gelatin and 1/4 cup of the cold half and half. Let the mixture sit for 5-10 minutes to hydrate the gelatin.
Finely chop the bittersweet chocolate. Put the chocolate into a heat proof bowl. In a medium saucepan (one which the bowl fits over snugly), heat 1-2 inches of water until hot and steaming. Reduce the heat to low and put the bowl of chocolate over the saucepan to melt the chocolate, stirring frequently. Once the chocolate is mostly melted, move the saucepan off the heat to let the chocolate finish melting there.
While the chocolate is melting, combine the remaining half and half with the sugar, salt, and espresso powder in a medium saucepan or saucier. Cook over medium heat until the sugar and salt are dissolved and the cream is steaming with little bubbles around the edge, about 4-5 minutes.
Take the cream off the heat and pour in the melted chocolate. Stir well to combine the chocolate and cream. Add the vanilla and stir to combine.
Then pour in the hydrated gelatin mixture and stir together until the gelatin is dissolved.
Place a fine mesh strainer over a bowl and line the strainer with cheesecloth. Pass the panna cotta through the cheesecloth into the bowl. Divide the panna cotta between the two prepared containers. Transfer the panna cotta to the refrigerator and let chill for at least 2 hours, though they will be firmer at 4 hours.
To unmold the panna cotta, run a thin blade around the edge of the cup to loosen it from the sides. Then put the cup into a container of hot water for a few seconds. Tip the cup over the plate. It may slip out right then or you may need to give the cup a few good raps to get it to release.
Top the panna cotta with whipped cream, a few berries, and some finely chopped chocolate.