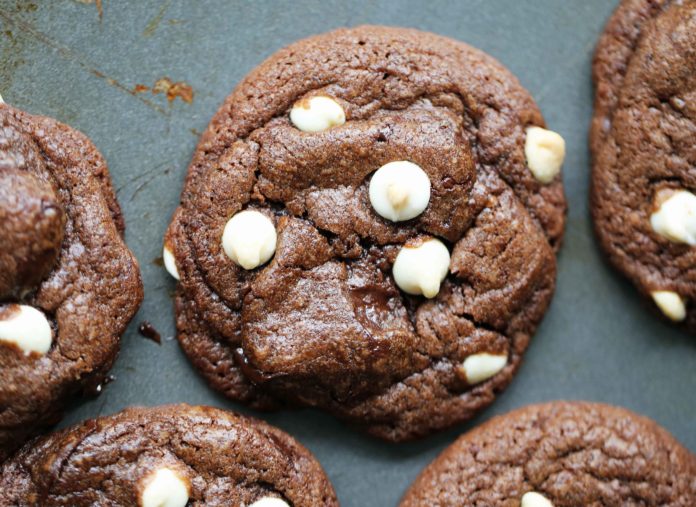 Fudgy cookies packed with dried cherries, nuts and chocolate chips.
24 servings 3-13 min 25 min Easy
Ingredients
8 ounces/227 grams bittersweet chocolate, 72 % cocoa solids, chopped
6 tablespoons/85 grams unsalted butter, cut into cubes
⅓ cup/42 grams all-purpose flour
1 tablespoon/7 grams unsweetened cocoa powder
1 teaspoon baking powder
½ teaspoon fine sea salt
2 large eggs, at room temperature
¾ cup/150 grams granulated sugar
2 teaspoons vanilla extract
⅓ cup/56 grams white chocolate chunks or chips
⅓ cup/56 grams bittersweet chocolate chunks or chips
⅓ cup/60 grams dried cherries
⅓ cup/42 grams pecan halves
Directions
Heat oven to 350 degrees and lightly grease 2 or 3 baking sheets.
In a heavy saucepan set over low heat, melt chocolate and butter over low heat, stirring constantly. Once melted, remove from heat, stir well and set aside to cool slightly.
In a small bowl, whisk together flour, cocoa powder, baking powder and salt.
In a large bowl, using an electric mixer fitted with the whisk attachment, beat eggs and sugar until mixture is pale and very fluffy, about 2 minutes. Beat in vanilla extract. Scrape melted chocolate into egg foam and beat until just incorporated, scraping down sides of mixer bowl with a rubber spatula. Beat in flour mixture until no traces of flour remain, scraping sides of mixer bowl with spatula.
Using a spatula, fold in chips, cherries and nuts. Drop scant tablespoons of batter, 2 inches apart, onto prepared baking sheets. Sprinkle with sea salt if you like.
Bake until slightly risen and a thin crackling crust forms on the tops of cookies, 9 to 13 minutes, depending on size. Do not overbake; the cookies can dry out.
Using a metal spatula, immediately transfer hot cookies to a wire rack. Let cool completely before serving.