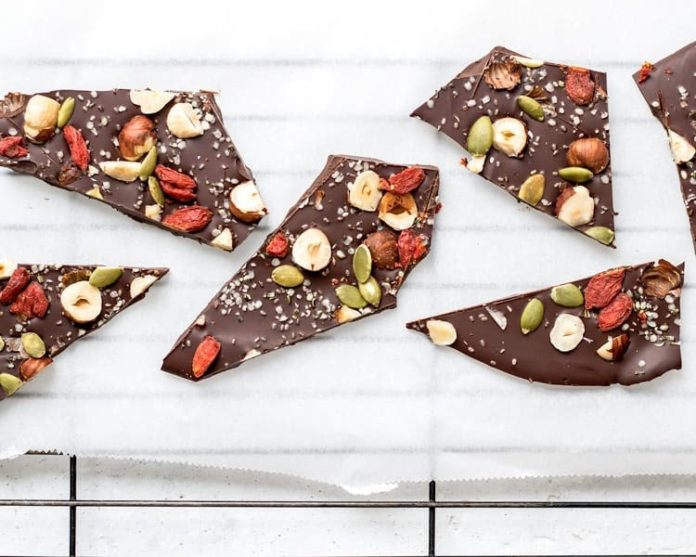 A healthy and easy grab and go snack; that Kids and adults would love.
25 servings 0 min 30 min Very easy
Ingredients
1 pound dark chocolate (70 to 80 percent cacao)
1 1/4 cups roasted nuts ( almonds, hazelnuts, pecans,walnuts ect..)
3/4 cup salted roasted pumpkin seeds and sunflower seeds
1 tbsp goji berries
1 tsp hemp seeds
1 tsp chia seeds
Directions
Line a baking sheet with parchment paper. Using a sharp knife, finely chop the chocolate. In a bowl set over a saucepan of gently simmering water, heat the chopped chocolate, stirring occasionally, until it is about two-thirds melted.
Remove the bowl from the saucepan and stir the chocolate until it is completely melted.
Pour the melted chocolate into the baking sheet.Use the spatula to spread the chocolate into a large rectangle.
Sprinkle the nuts, goji berries, pumpkin seeds, hemp seeds, and chia seeds on top.
Refrigerate the bark for about 10 minutes, until hardened.
Remove the parchment paper, break into 25 pieces and store or serve. Enjoy!