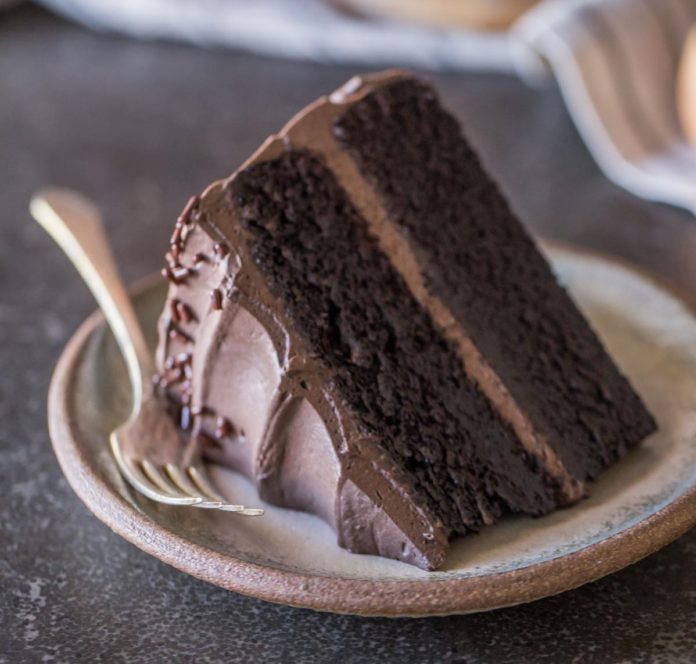 The ultimate moist chocolate cake with a dark chocolate infused buttercream frosting.
12 servings 25 min 30 min Medium
Ingredients
Chocolate Cake:
1 3/4 cups all-purpose flour
1 3/4 cups granulated sugar
3/4 cup unsweetened cocoa powder
1 teaspoon baking powder
2 teaspoons baking soda
1 teaspoon salt
1 cup buttermilk
1/2 cup canola oil
2 large eggs at room temperature
1 teaspoon vanilla
1 cup freshly brewed strong hot coffee
The Chocolate Whipped Ccream Frosting:
1 1/2 cups powdered sugar
1/4 cup dark chocolate cocoa powder
2 1/2 cups heavy cream
1 teaspoon vanilla extract
Directions
The Cake:
Preheat oven to 350 degrees. Grease and flour 2 round 9-inch cake pans.
For the cake, put flour, sugar, cocoa, baking powder, baking soda and salt in a bowl and mix well.
In a stand mixer, mix the buttermilk, oil, eggs, vanilla together. Slowly add in the mix of dry ingredients while the mixer is on low. Add the coffee and make sure everything is combined. The batter will be very thin.
Pour the batter into the prepared pans and bake for about 25 minutes or until a toothpick inserted in the middle comes out clean.
Allow the cakes to cool on a wire rack for 10 minutes. Turn the cakes out onto a cooling rack.
The Frosting:
Over a large bowl, sift powdered sugar and cocoa powder together. Add heavy cream and vanilla extract. Beat on low speed (carefully at first)
Gradually increase the speed to high as the mixture thickens. After about 3-4 minutes, you will have stiff peaks in the cream and it will be ready to use for frosting.
To Assemble:
Frost the top of the first cake. Then layer the other half of the cake on top. Frost the outside of the cake. Use a knife or offset spatula to smooth the edges.
Cover (if possible) and refrigerate until ready to serve.